900 MHz Nuclear Magnetic Resonance Spectrometer
900 MHz Nuclear Magnetic Resonance Spectrometer Leading-edge Equipment Home
Equipment Introduction
900 MHz Nuclear Magnetic Resonance Spectrometer is a core equipment for the study of biomolecular structure and development of new drugs which is installed in Ochang Center. It is utilized as a national collaborative research equipment.
Characteristics of the Equipment
The sensitivity of the cryogenic probe to 1H is more than 4 times (8,000) that of conventional room temperature probe, so the experiment time can be shortened to 1/16
Protein structural studies can be performed with 100 μM or lower concentration samples
Minimum mass for 13C experiment of natural products is about 100 μg
Representative Research Case
Target Search Pathways Visualized by Paramagnetic NMR Spectroscopy
NMR paramagnetic relaxation enhancement have been employed to visualize the encounter complexes between histidine-containing phosphocarrier protein and the N-terminal domain of enzyme I and demonstrate that protein association can be significantly enhanced by engineering on-pathways.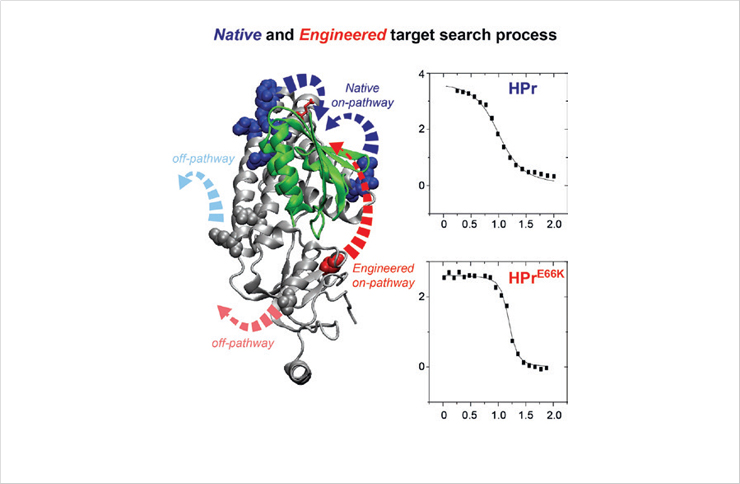 Paramagnetic NMR spectroscopy visualizes the protein target search process
Application
J-based configuration analysis of natural compound

Self assembly and DOSY NMR of the molecular knot and macrocycle
Representative Research Papers
The First Quantitative Synthesis of a Closed Three-Link Chain (613) Using Coordination and Noncovalent Interactions-Driven Self-Assembly
Jatinder Singh, Dong Hwan Kim, Eun-Hee Kim, Hyunuk Kim, Rizky Hadiputra, Jaehoon Jung, and Ki-Whan Chi
Journal of the American Chemical Society 2020 142 (20), 9327-9336 doi: 10.1021/jacs.0c01406
Structural and mechanistic insights into the CRISPR inhibition of AcrIF7
Iktae Kim, Jasung Koo, So Young An, Suji Hong, Donghyun Ka, Eun-Hee Kim, Euiyoung Bae, Jeong-Yong Suh
Nucleic Acids Research, 2020 1 doi: 10.1093/nar/gkaa690
Intrinsic disorder is essential for Cas9 inhibition of anti-CRISPR AcrIIA5
So Young An, Donghyun Ka, Iktae Kim, Eun-Hee Kim, Nak-Kyoon Kim, Euiyoung Bae, Jeong-Yong Suh
Nucleic Acids Research, 2020 1 doi: 10.1093/nar/gkaa512
Metabotyping of different soybean genotypes and distinct metabolism in their seeds and leaves
Dae-Yong Yun, Young-Gyu Kang, Myoyeon Kim, Donghyun Kim, Eun-Hee Kim, Young-Shick Hong
Food Chemistry 2020 330, 127198 doi.org/10.1016/j.foodchem.2020.127198
Single-Molecule-Based Detection of Conserved Influenza A Virus RNA Promoter Using a Protein Nanopore
Sohee Oh, Mi-Kyung Lee, and Seung-Wook Chi
ACS Sensors 2019 4 (11), 2849-2853 DOI: 10.1021/acssensors.9b01558
Tyrosine 51 Residue of the syndecan-2 Extracellular Domain Is Involved in the Interaction With and Activation of Pro-Matrix metalloproteinase-7
Bohee Jang, Ji-Hye Yun, Sojoong Choi, Jimin Park, Dong Hae Shin, Seung-Taek Lee, Weontae Lee, Eok-Soo Oh,
Sci Rep. 2019 Jul 23;9(1):10625. doi: 10.1038/s41598-019-47140-5
Investigation of the core binding regions of human Werner syndrome and Fanconi anemia group J helicases on replication protein A
Yeom, G., Kim, J. & Park, C.,
Sci Rep 9, 14016 (2019). https://doi.org/10.1038/s41598-019-50502-8
Facilitated Protein Association via Engineered Target Search Pathways Visualized by Paramagnetic NMR Spectroscopy
An S.Y., Kim E.-H., Suh J.-Y.,
Structure, 2018, 26 (6), pp 887-89300, doi:10.1016/j.str.2018.04.009
Diverse Metabolite Variations in Tea (Camellia sinensis L.) Leaves Grown under Various Shade Conditions Revisited: A Metabolomics Study
Ji H.-G., Lee Y.-R., Lee M.-S., Hwang K.H., Park C.Y., Kim E.-H., Park J.S., Hong Y.-S.,
Journal of Agricultural and Food Chemistry, 2018, 66 (8), pp 1889-1897, doi:10.1021/acs.jafc.7b04768
Coordination-Driven Self-Assembly of Heterotrimetallic Barrel and Bimetallic Cages Using a Cobalt Sandwich-Based Tetratopic Donor
Singh N., Singh J., Kim D., Kim D.H., Kim E.-H., Lah M.S., Chi K.-W.,
Inorganic Chemistry, 2018, 57 (7), pp 3521-3528, doi:10.1021/acs.inorgchem.7b02653