Nano Secondary Ion Mass Spectrometer
Nano Secondary Ion Mass Spectrometer Leading-edge Equipment Home
Equipment Introduction
The Nano Secondary Ion Mass Spectrometer (Nano SIMS, model: Nano SIMS 50), can perform the quantitative imaging process with focused 50-nm primary ion beams for the distribution of trace elements in materials. It is operated as national coutilization equipment.
Characteristics of the Equipment
World's best spatial resolution (50 nm) in a secondary ion mass spectrometer
Multiple detection of impurity elements in a small area
High-sensitivity imaging of light elements (including hydrogen)
Representative Research Case
A Study on the correlation between precipitation and intragranular fracture in austenite stainless steel by using NanoSIMS
The purpose of this study is to investigate the structural and mechanical properties of austeniteof austenite stainless steel used in power plants, and the correlation between precipitation and intra-granular fracture. Nano SIMS was used to determine the precipitation of phosphorus and sulfur in the prior austenite grain boundary (PAGB), which made an intra-granular fracture in the coarse-grained heat affected zone (CGHAZ).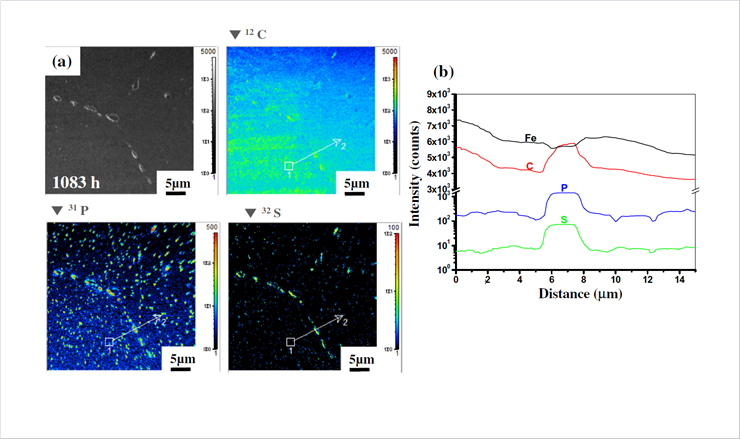 Nano SIMS ion image of phosphorus and sulfur in austenite grain boundary
Application
Nano SIMS Isotope Image Acquisition of Cell

Nano SIMS Image Acquisition of Crack in Steel