Representative Research Publications
Study on the possibility of environmental mutation of toxic organoarsenic species, DMDTA via XAFS 2022 > Representative Research Publications > Research Results Home
Study on the possibility of environmental mutation of toxic organoarsenic species, DMDTA via XAFS
Science of the Total Environment / December 2022
Seulki Jeong(First author), Hye-On Yoon(Corresponding author)
Research Summary
It has been reported that DMAV, a representative organic arsenic species, is mutated to DMDTAV through thiolation in the environment. Currently, the World Health Organization (WHO) has designated DMAV as a probable carcinogen.
The adsorption behavior of dimethylarsinic acid (DMA), dimethyldithioarsinic acid (DMDTA), and dimethylmonothioarsinic acid (DMMTA) on montmorillonite. Complicated transformations among arsenicals under normal environmental conditions were fully studied.
DMDTA was oxidized to DMMTA, which was relatively stable but partially transformed to DMA when exposed to air during adsorption. The transformed DMA exhibited high adsorption affinities for montmorillonite, while DMMTA and DMDTA were not appreciably retained by montmorillonite for 48hr.
X-ray absorption near edge structure and extended X-ray absorption fine structure studies confirmed that most of the adsorbed arsenicals on montmorillonite were DMA. The significantly different bonding characteristics of each adsorbed DMAV provide direct evidence for the transformation of DMA from DMDTA and DMMTA. Our study suggests the importance of incorporating the DMMTA in the realistic risk management for soil environments because it is highly toxic, easily transꠓformed from DMDTA , and stable in the environment.
Expected Outcomes
Spectroscopic analysis confirmed DMA transformed from DMDTAV and DMMTAV was mostly adsorbed on montmorillonite. The formation of highly toxic DMMTAV and their migration can occur more rapidly.
The factors affecting chemical metabolism (e.g., oxidation or thiolation) and environmental stability of dimethylated arsenicals, including longer reaction times, microbial-driven redox changes, and coexisting elements, require further investigation.
Related Figures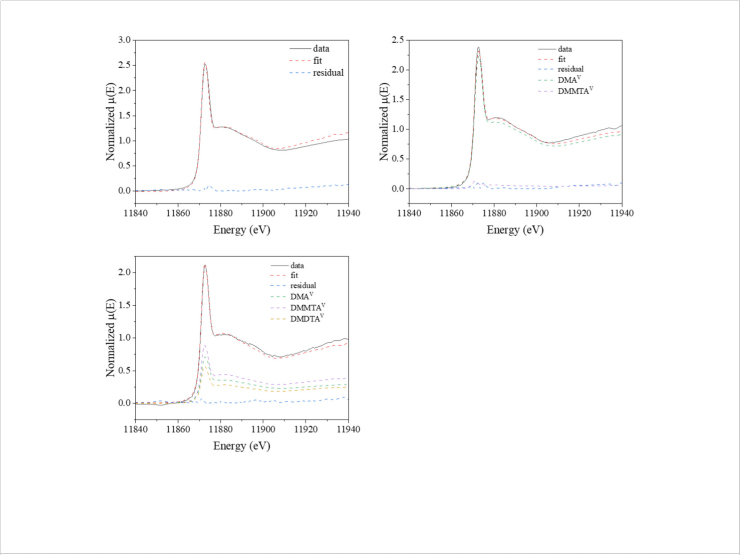 [Figure 1] Linear combination fit (LCF) for the As K-edge XANES spectra of montmorillonite with dimethylated arsenicals adsorbed: (a) DMAV: dimethylarsinic acid, (b) DMMTAV: dimethylmonothioarsinic acid, (c) DMDTAV: dimethyldithioarsinic acid.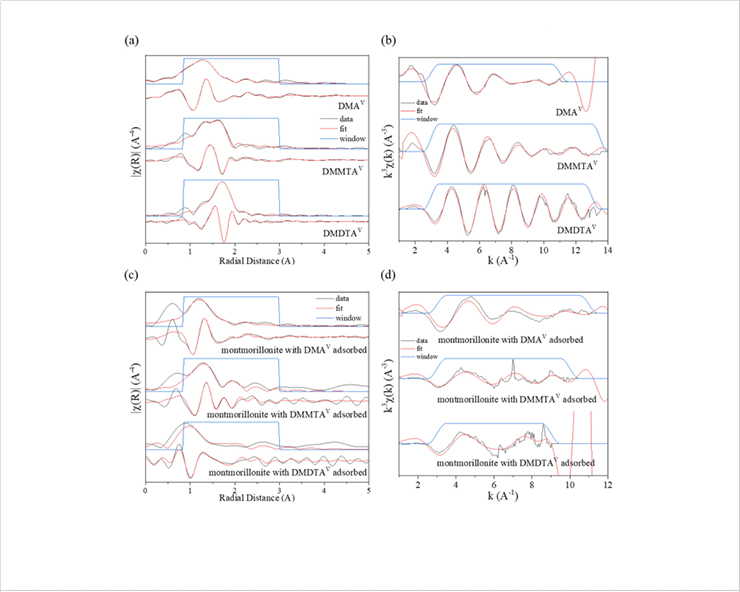 [Figure 2] Structure characterization from the Fourier transform of EXAFS spectra in R-space for montmorillonite with dimethylated arsenicals adsorbed. Solid lines are experimental data and red dash lines represent best fit.