Research Center for Materials Analysis
Research Center for Materials Analysis Analytical Science > Major Research Activities Home
We focus on development and application of new analytical techniques essential for the functional improvements of materials, especially in energy/environmental sciences, and on development of related materials. This research activity is expected to lead to core knowledge and techniques for the new generation of the functional materials.
Main Research Field
Development of in-situ/operando measurement platform for energy materials
Real-time measurements of Li-ion battery, solar cell, and fuel cell materials under operation conditions for the discovery of new energy materials
Investigation of basic properties and growth mechanism of low-dimensional nanomaterials using Advanced In-situ surface analysis system (AISAS)
Development and application of analytical techniques to probe local dynamics of ions and molecules
Investigation of ionic dynamics in energy conversion systems such as batteries and fuel cells
Investigation for dynamics of water and ions dynamics in polymer electrolyte membranes
Development of energy·environment convergence materials
Taking advantage of advanced analytical techniques, developing energy convergence materials such as lithium secondary batteries and hydrogen storage materials, and convergence materials for removing toxic materials in environment.
Representative Research Cases
Research on strain relaxation of graphene layers by Cu surface roughening
After graphene growth, the compressive strain on graphene induced by the mismatch of thermal expansion coefficient with Cu step bunching that depending on graphene layers. We found the strain relaxation of graphene layers by Cu step bunching formation using Raman spectroscopy. This finding will provide a crucial idea to enhance the electrical performance of graphene electrodes by controlling the ripple density of graphene.

Optical microscope image and Raman spectroscopy results of the graphene on the reconstructed Cu surface. (a) optical microscope image, (b) Raman spectra, spatially resolved Raman mapping plotted with (c) FWHM(2D) and (d) intensity ratio I(G)/I(2D), (e) Dark field optical microscope image overlapped with (d).
Improved cathode electrode capacity and long-term stability of K+ ion battery
By using Sb-C-rGO composite electrode with amorphous carbon and reduced graphene oxide to reduce the effect of volume expansion during charging and discharging of Sb particles, K storage capacity of Sb-based anode electrode increases and long-term stability is improved.
The Sb−C−rGO multicomposite exhibits a reversible capacity of 310 mAh g−1 at 0.5 A g−1 and 79% of it is retained after 100 cycles.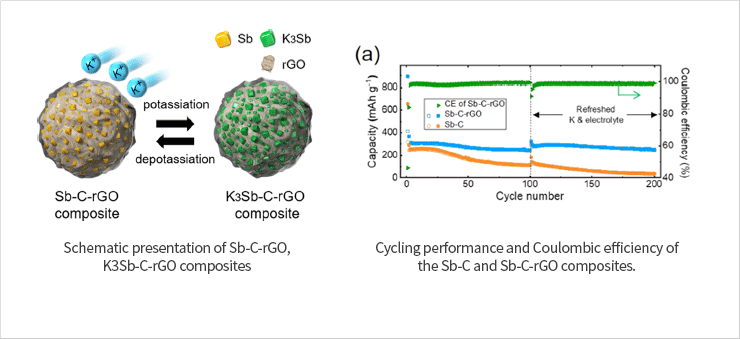 ACS Appl. Mater. Interfaces 2019, 11(31), 27973